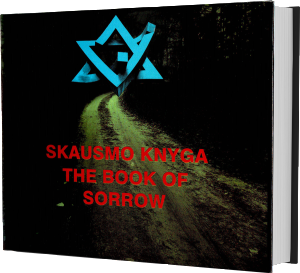 This is a book about the Holocaust, the unprecedented extermination of about 6 million Jews, including more than 200.000 from Lithuania, during World War II.
Within half a year of the beginning of the Nazi occupation, the Jewish inhabitants of Lithuania were annihilated. About 35 thousand remained in the ghettos of Vilnius, Kaunas and Šiauliai, where they were used as slave labour. Their fate is well-known. Out of nearly a quarter of a million Jews in Lithuania, only 6 to 8 percent survived – either those who were out of reach of the Nazi executioners and their local collaborators, or those whom time favoured. There were nearly 200 massacre sites in Nazi-occupied Lithuania, where deep ditches were often dug in Jewish cemeteries to serve as mass graves for thousands of innocent Jews, including children, women and elderly people.
With the emergence of the Lithuanian National Revival movement in 1988, the Jewish community immediately began tending the mass-murder sites in an effort to perpetuate the memory of those who were exterminated there. In response to a proposal by the Lithuanian Jewish Culture Society and the State Jewish Museum, the Supreme Council of Lithuania passed a resolution "On tending to the graves and cemeteries of the victims of the Jewish genocide and preserving the Jewish heritage". Local municipalities and conservation services, together with Lithuanian Jewish organizations, cleaned up the extermination sites and erected monuments to the Holocaust victims. Some of the Lithuanian Jewish émigrés provided funds to complete this work. All the monuments bear inscriptions in Lithuanian and Yiddish about the tragedy that struck the Jewish population during World War II.
The book includes pictures of nearly all of the Jewish extermination sites in Nazi-occupied Lithuania. Some data from the State Jewish Museum is used in this book. Let this book serve as a modest monument to the annihilated Lithuanian Jewish community as well as a grave accusation against the organizers and executors of the systematic destruction of the Jewish people. Joseph Levinson